This is a case of Patent vs. Patient in India.
The Indian Supreme court recently rejected Novartis claim for a patent concerning Gleevec. There has been considerable media coverage especially in India on this case. Here are more details and analysis of the case done by Patent Scientists of DexPatent.
Glivec (Europe/Australia/Latin America) or Gleevec (USA) is the brand name of Imatinib marketed by Novartis. The drug is used for the treatment of multiple cancers especially chronic myeloid leukemia. Imatinib is a competitive tyrosine-kinase inhibitor which prevents a central tyrosine kinase enzyme activity of initiating the signaling cascade necessary for cancer development.
Patents for the free base of imatinib were granted to Ciba-Geigy Corporation in October 6, 1993 (EP0564409) and in May 28, 1996 (US5521184). Later, Ciba-Geigy Corporation was merged with Sandoz Laboratories to create Novartis in 1996.
Novartis filed and obtained patent for the newer form of Glivec/Gleevec in several countries. In India, Novartis filed a patent application for Imatinib Mesylate in beta crystalline form at the Chennai Patent Office, India on July 17, 1998 with Application No. 1602/MAS/1998 under title "Crystal Modification of a N- Phenyl-2-Pyrimidineamine derivative, processes for its manufacture and its use".
Indian patent office rejected the application on January 25, 2006 based on 3(d) of Indian Patents (Amendment) Act of 2005. Later, Novartis filed writ petitions challenging the patent application rejection under 3(d) of the Indian Patent Act in Madras High Court in 2006; Madras High Court transferred writ petitions to Intellectual Property Appellate Board (IPAB) on April 04, 2007. IPAB rejected Novartis appeals on June 26, 2009 and also accepted the Madras High Court's judgment on petition against section 3(d) of the Act. Novartis filed Special Leave Petition (SLP) in the Supreme Court against IPAB's decision on August 11, 2009. Finally the Supreme Court of India rejected Novartis plea on April 01, 2013.
The rejection is based on '3(d) of Indian Patents (Amendment) Act of 2005' which states that 'mere discovery of a new form of a known substance which does not result in the enhancement of the known efficacy of that substance' could not be patented. The patent application filed in India is mere an alternative form of the original compound without any difference in efficacy as compared to the original compound. Though Novartis stated that the beta form of Imatinib Mesylate has increased bioavailability comparing to the free base form of Imatinib, the Supreme Court stated that increased bioavailability cannot be considered as increased therapeutic efficacy. The Times of India (a known media group) said the granting of patent would violate moral standards as the price of the newer form of Glivec is too high compared to that of the income of average Indian. It also felt the application violates section 3(b) of Indian Patent Act, 1970 which says "An invention whose primary or intended use or commercial exploitation of which could be contrary public order or morality or which causes serious prejudice to human, animal or plant life or health or to the environment are not inventions within the meaning of this Act."
Since the launch of Novartis' patient assistance programme in 2002, Novartis have provided nearly USD 1.7 billion worth of Glivec to Indian patients enrolled in Glivec International Patient Assistance Program (GIPAP) at free of charge which is laudable.
DexPatent team has come up with a flow chart illustrating events relating to Novartis Glivec in India, in a chronological order.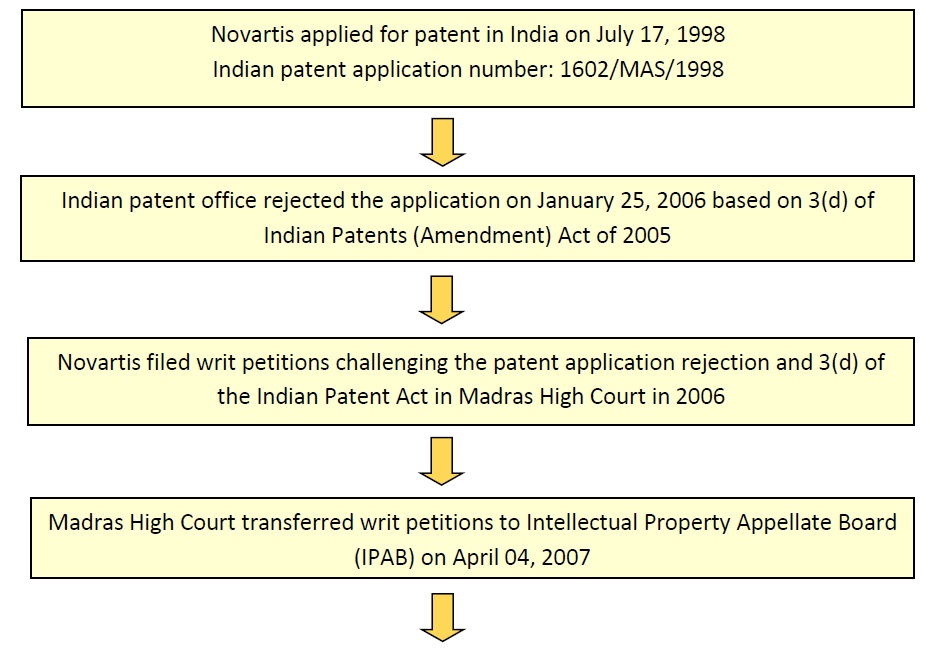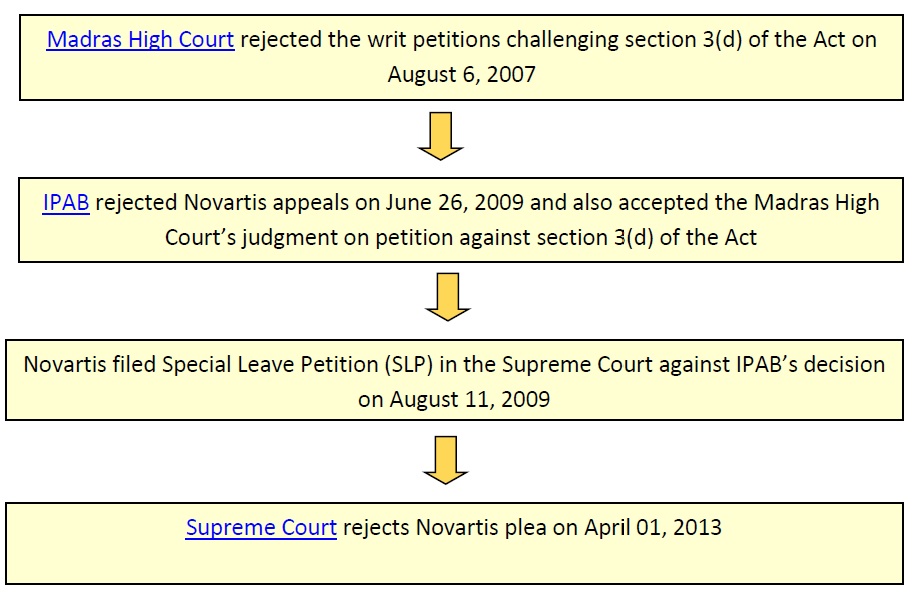 "The Glivec case will be a lesson for Pharma Companies in a sense that they need to be more cautious about launching their newest drugs in India before obtaining a patent" according to Marie Fischer-Sabatie, Vice President – Senior Credit Officer, Moody's Investors Service (Source: Times of India). "Patented drugs must be priced smartly in India" said Kiran Mazumdar Shaw of Biocon (Source: The Economic Times). Ranjit Shahani, Novartis India MD says "Supreme Court's Glivec ruling will ruin innovation" (Source: The Economic Times). So, in the Patent vs. Patient battle in India, patent has been put in the back seat to provide affordable drugs to the patients in India.
The Glivec case is one that illustrates patent laws and its interpretation can differ from one country to another. Though the newer form of Glivec has been patented in nearly 40 countries including the United States, Russia and China, the strategy of "Patent Evergreening" of pharma majors for highly profitable drugs like Glivec should take into account the affordability of lifesaving drugs in countries like India where low income groups constitute a major part of the population. Also the generic version of the drug Glivec is cheaper when compared to the newer form even though there is no data on its improved efficiency. The Supreme Court's rejection favors Indian patients specially the low income groups as they can avail drugs from generic drug makers at a cheaper cost.
References:
Subathra & Sujatha – Patent Scientists at DexPatent
DexPatent   IP & Patent Research Services   www.dexpatent.com   info@dexpatent.com